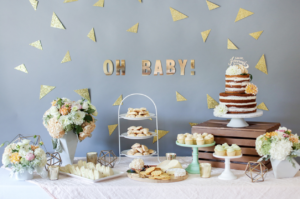 By Peyton Ladt Sterns
Peyton is the mom of 8 month-old Henry (with another on the way!) and Co-Founder and CEO of Bashed, the go-to-guide for all things entertaining. Bashed provides tools for you to execute the perfect event, from finding your venue to connecting you with brands that will help make your event extra special. Follow along on Insta @bashednyc.
Celebrating a loved one bringing a new life into the world is about as special as it gets. I've been lucky enough to experience baby showers in every possible way, from my own, to my sister's, friends', and too many to count through my company, Bashed. I'm endlessly impressed by the creativity and personal touches that are incorporated into each and every one of them. Here are a few tips, tricks, and ideas to incorporate into yours.
Timing is Everything
From personal experience and feedback from friends, family, and clients, the sweet spot for having your shower tends to be between 26-32 weeks. Why? A few reasons. First, you'll have a prominent bump for friends and family to fawn over, but not feel as bloated, uncomfortable, and exhausted as many often do in the final weeks. Plus you'll want enough time to take stock of the generous gifts you've received in order to figure out what you still need to prep for your little one's arrival. Also, your baby could come weeks earlier than expected! I have a friend who missed her own baby shower because she went into labor…
Be Our Guest
Coming up with a guest list can be challenging – especially if other family members (hello, in-laws!) want to be involved. Even though there may be some people you feel obligated to invite out of being respectful, remember that this is ultimately about you and your bump and you have the right to invite or not invite who you want to. Think about who you envision being a part of your child's life, and start there.
If you're not comfortable being the center of attention with so many people in the room, you may want to consider having two small showers – one with friends, and one with family. Another way to combat that spotlight on you is to have your partner join halfway through the shower to share in some of the attention. Or better yet, throw a co-ed baby shower to get your partner in on the fun and celebration from the beginning.
Life is But a Theme
Setting a theme is great because it can help to streamline the decisions that go into event planning, from colors to desserts. It can also make the process of delegating responsibilities easier, as there will be clear guidelines and guardrails for the event.
Some of my favorite themes I've seen recently are:
Citrus: From the orange, yellow, and pink colors on the invitation, to desserts like lemon curd tart and tangerine olive oil cake, a citrus theme feels fresh and joyful, without being too precious.
Rustic French Country: Think vintage glass carafes, mismatched blue and white plates, and pitchers as flower vases. For this inspiration, we look to our favorite café, Maman.
Announce the Name: Although traditionally, it has been more common to withhold the name of the baby until he or she is born, I've seen more people throw that tradition out of the window and proudly display it at the shower. Ways to surprise shower attendees are to put the name on or in the cake, reveal it through games, or show it off via decorative balloons.
Game Theory
Speaking of games, they can be a fun way for your loved ones to mingle and have another way to celebrate mom and baby outside of watching the gift opening (p.s. you are not obligated to open gifts in front of people, just be sure to write a thank you note). If you're tired of the old "guess the baby weight" games, here are some alternative ideas to spice things up.
Blocks of Fun: We love the idea of elevating wooden blocks with painted designs by friends and family. Once they're dry, you can use shellac to make them baby safe for the inevitable moment when your kiddo tries to eat them. Want them to match the nursery or keep them a certain color scheme? Hand-select the paints available to the group so they have a common theme.
Tie Dye: Go beyond baby toys and have a mix of onesies and swaddles to tie dye. Plus, you can encourage guests to BYOPiece of clothing to dye and take home with them.
The Newlywed Game, but Make it Baby: This is a fun game to have your partner join in for. The host will come up with questions for the parents about the pregnancy and baby. Each guest can take turns asking the parents-to-be a question, and the parents take a moment to write down their answers separately and announce them out loud to see if they have the same response. Some starters: What cravings has Mom had during her pregnancy? Who will be more strict with the baby? Who knows how to change a diaper?
For more tips follow @bashednyc on Instagram