Contributed by Natalie Wadsworth of Frances Hart
The holidays bring the usual battery of social activities that can seem – even while not pregnant – "foot-crampingly" exhausting at best, and sore throat-inducing at worst. While pregnant and ready-to-party might not be precisely your mantra, we know there are plenty of events ahead this season that are worthy of braving the cold, the traffic, and separating from your bathrobe.
To that end, we asked the gorgeous new maternity brand, Frances Hart, to gather up some specific outfit ideas that you can assemble online from the comfort of your home. With a proper cocktail outfit or two on hand, we hope you're inspired to leave the house and get in on the fun, looking stunning while at it.
Here's our tried-and-tested, pre-vetted, pre-approved party outfit ideas for your merrymaking pleasure.
The Swingy Black Dress (Sister of the always reliable LBD)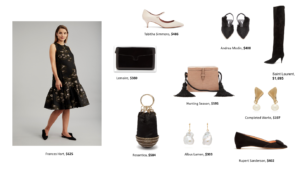 This dress will work for nearly any holiday occasion and is certainly formal enough to take you to a wedding or black-tie party, should that be in store for 2020. With a subtle metallic flower in this textured jacquard, the dress' stunning detail means minimal fuss in required in terms of accessories. We suggest some elegant options in black and white. To spare your feet, a fancy slide like these Andrea Modin ones (paired with a sheer tight) will go the distance. Bonus points here for two well-placed (invisible) pockets at the hip for lipgloss and more lipgloss.
Vermillion Vibes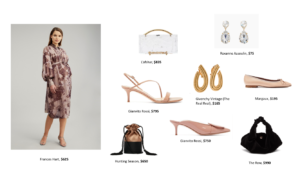 This slightly metallic dress features a delicate floral in plum and violet. With an elegantly pintucked pleat, this can be worn belted for more figure visibility, or can be worn with a slightly loose fit, for which the floatiness of the fabric and the light lining are perfectly suited. We love the neckline collar detail, and the long sleeves and tea-length for coverage and warmth. We'd go for simple and sleek hair up for this look, paired with sheer tights and delicate gold, glass or diamond jewelry.
Chiffon and Shirred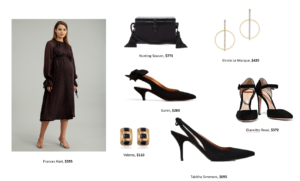 This mulberry silk chiffon dress blends a bit of understated sheerness in the arm with a lined body, making for easy undergarments and a flawless silhouette on body. With a subtle ikat pattern and a delicately shirred neck that can be buttoned up or down, the dress is also beltable with the elasticized grosgrain belt, working beautifully for the 7-months pregnant holiday or the 4-months postpartum wedding. We love this with a mid-height heel and some restrained gold jewelry. We particularly love silk chiffon, which is an all-seasons fabric that perfectly suits all-temperatures pregnant woman.
Polished to a Sheen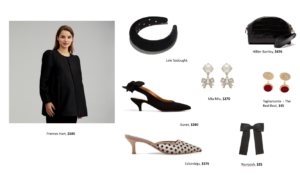 If you're looking to avoid tights and specialty undergarments of any kind, a polished jacket paired with the right pants (or long skirt) can be a godsend. This puffed sleeve jacket can be worn open or closed, either paired with a fitted knit dress, or an easy pair of slip-on knit, silk or even velvet pants in black. This jacket also looks fabulous with black denim, and works for work, dinners or a night on the town. We love it with some accessories that pack a punch, and also think it pairs well with some of our best decorative headbands. The jacket has a rich and subtle sheen to it, with just the right amount of something to read as polished and not garish.