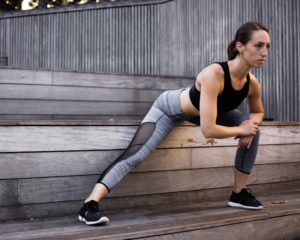 Hometown?
Rochester, NY
Current location?
Astoria, Queens/NYC
What is your background?
Professional Dancer, Singer, Actor turned fitness instructor/trainer. Experience with dance based workouts, trampoline cardio, Lagree Megaformer, and general strength training.
What do you do when you don't teach at FPC?
Workout, take dance classes, and spend time with my husband, Jack, and new baby boy, Kieran! We love exploring NYC and discovering hidden gems.
What inspires you?
WOMEN! Every single day, I am in awe of the strength, ambition, and resilience of my female co-workers, clients, friends, and family. I especially love to see women lifting up other women!
Describe the energy of your FPC class.
Like a fun sweaty dance party for mama and baby! It will truly feel like a time where you can leave everything else at the door, focus on yourself, have some fun, and leave feeling better than when you walked in.
What do you want to be when you grow up?
Someone my son can look up to. Also, a professional cupcake taster, if that's a thing?
Current favorite song?
"Save Me Tonight" ARTY
If you could be any animal in the world, what would you be and why?
Koala because they get to chill out and eat all day… and they have both hands to do it because they can carry their baby in a pouch!
Tell us something that not a lot of people know about you.
I don't like coffee or chocolate!
Follow Jenny on instagram @jennyholahan and catch her on the schedule soon!