FPC Method
The foundation to Fit Pregnancy Club is the Pump & Kegel®
A vital activation of the core and pelvic floor that initiates every class and continues throughout. Our mission is for you to become familiar with these parts of your body, strengthen them, and activate or turn them off as you need throughout your motherhood journey.

The core and pelvic floor are your secret weapon for pushing and expanding during labor, and so much more.
#PumpAndKegel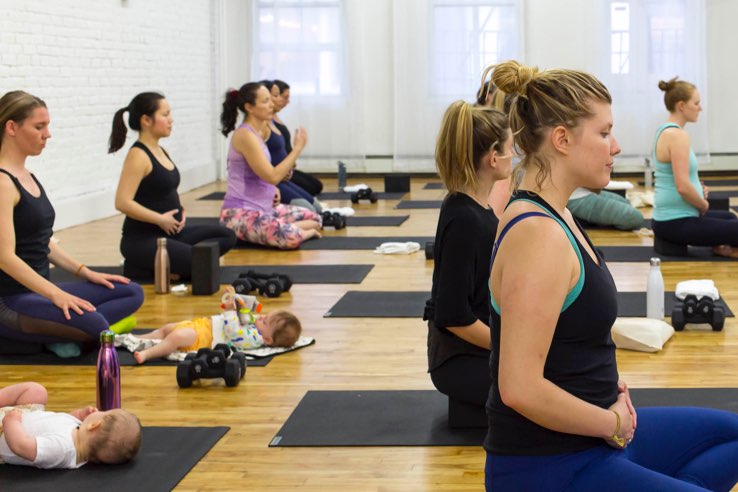 Our classes are safe pregnancy- and post-pregnancy workouts designed to teach you how to stay fit during pregnancy, exercises to prepare for labor, approaches to working out after a C-section, and more.

Pre-crawling babies are welcome in all classes!
Prenatal Signature
45-minute prenatal workout of low impact and high intensity exercises for full body strengthening, toning and stretching.
Finish pregnancy stronger than you started.
This full body workout is developed specifically for women that are working out while pregnant. We'll focus on strengthening your body to meet the demands of motherhood while building the foundation for a complete postpartum recovery. Learn how to prepare your body for labor while minimizing aches, pains and fears.
Postpartum Rehab*
45 minutes of rehabilitative exercises and learning to assess, protect and heal abdominal separation and pelvic floor issues. This class is free!
Welcome back mama <3
Your body and mind have gone through a tremendous transition, so we like to take the first few weeks to reconnect them before you jump back into your fitness routine. Rehab is the first step to you making a full recovery, returning to your optimal state of functioning and approaching motherhood with the physical strength and peace of mind it requires.
You'll also have the space to connect with other new moms where you can exchange advice and ask questions that often accompany recovery — whether IRL or online.
*It's not a requirement but we recommend all new and returning clients that are post-pregnancy take one Rehab before entering into the Postpartum Signature class. No medical clearance is necessary. This class focuses on information.
Postpartum Signature*
45 minutes of high intensity and high impact workouts for increasing strength.
Because you want to thrive, not just survive.
Signature will help you meet the functional demands of motherhood, increase your strength, improve your posture and prep your mind and body to return to pre-pregnancy fitness. You'll learn how to protect your core and pelvic floor as we begin to integrate high intensity workouts and high impact exercises back into your fitness regime.
*You must have clearance from your healthcare provider to begin exercising again.