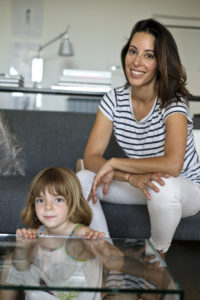 FPC: First things first, what's your name? Do you have a nickname?
PE: My first name is actually Panayiota. It's Greek! Obviously very difficult to pronounce for most people so my parents gave me the nickname Peggy when I was little, which has stuck.
FPC: That is so cool! What's the name of your company and what was the inspiration for it?
PE: Teat & Cosset. When I was coming up with the name I wrote down all the words and expressions that described the company, "breastfeeding, pampering moms, breast, mother, taking care of mom, nipple, motherhood, maternity, etc.." and then made a list of all the synonyms to those words. Two words that struck me were "teat" a synonym for "nipple" and "cosset" a synonym for "pamper". I thought perfect, this is another way to say we're pampering nursing moms! And I loved the way the 2 words looked next to each other visually.
FPC: Tell us about your brand and what inspired you to start your own company?
PE: Teat & Cosset is a collection for motherhood. Our 3 pillars for each style are quality, design and function. It was born out of my desire to offer moms clothes that made them feel good, that they could wear while pregnant & nursing and that lasted for many years afterwards.
It's a big feat, but I want to do away with the notion that maternity and nursing clothes have to be temporary and wasteful. It all started from my own experience nursing my daughter and not finding anything cute to wear that was good quality AND nursing friendly.
FPC: How many children do you have?
PE: I have one Daughter, Dafne, she is almost 5 years old!
FPC: What did you do before you started Teat & Cosset?
PE: Out of university I worked in banking for almost 10 years. Right before my 30th birthday I realized that I didn't want to continue doing something I wasn't passionate about so I quit my job and decided to take a break and travel. After one year of traveling I settled in Italy and started teaching English. I taught English for three years before I started Teat & Cosset.
FPC: Tell us about your move from the US to Italy? Anything you miss about living in NYC or that you were happy to leave behind?
PE: During my travels after quitting my banking job, I met my Italian husband in Corsica. He was there on vacation as well. After a few months of dating we realized that we wanted to get married so I went back to the States, packed my things and moved to Siena permanently in May 2011!
Besides my family, friends and all the amazing entertainment, I miss take-out the most! In Siena there aren't many ethnic restaurants and the only restaurants that do take out are pizzerias. I shouldn't complain since Italian food is so great!
I was very happy to leave behind the long cold NYC winters, the humid summers, the high rents, train delays and the stress and grind.
FPC: What do you do for self-care? Do you have a favorite workout?
PE: I go to the thermal springs near my house. Sometimes my husband and I play hookie from work and head to the spa for long soaks in the hot outdoor baths.
I also take the time every morning to make a fresh fruit/vegetable juice for my family…and I always include a good chunk of ginger. I feel like its worth all the extra time each morning to wash, cut, juice and then clean the juicer. It definitely helps us avoid getting sick in winter time!
My favorite workout is my dance class. I used to do classical ballet when I was young and I was lucky enough to find a great teacher here who also does an adult class. So now my 5 year old daughter and I have the same dance teacher – different classes though 😉
FPC: Did you enjoy being pregnant?
PE: I loved being pregnant. I'd never felt more beautiful. My skin and hair looked amazing. I often took time for a pause to appreciate the life I was growing. It was the first time I realized what a miracle having a child really is.
The last 1-2 months were a bit more difficult because of interrupted sleep, knee issues from carrying the extra weight, not digesting well…and this sounds gross, but hemroids – No one tells you this!
FPC: We can totally relate! Tell us about your proudest moment? Either personal or professional.
PE: This is a tough question. I can't really say I've ever had specific 'proud' moments. There have been many moments where I've felt satisfied and content but not necessarily proud. I think it's more of a feeling I have towards others in my life when they've accomplished great things. Maybe it's because every time I reach a specific goal there's always another goal to reach!
FPC: What is the most challenging thing about running your own business?
PE: The days when sales aren't great or when we don't have the money to invest in what we want. It unfortunately affects my mood since my business is such a big part of who I am. We've only used our own cash to this day and bootstrapped the company. It can get tough when you want to spend more on marketing or hire a consultant, or make a larger collection but the money isn't there so you have to wait and be patient.
Another challenge is constantly thinking about the business..almost every waking hour I think about work…my husband doesn't appreciate this!
FPC: Right, entrepreneurship can be all encompassing! What does balance mean to you?
PE: Balance for me is when I'm feeling fulfilled, both at work and with personal life without feeling stressed. If we're having a great month at work but I'm rushing and don't have time to wind down at the end of the day, I feel out of balance because I don't have enough time for myself or for my family…and that's usually when I get sick too!
FPC: How has becoming a parent changed you?
PE: I've become less self-centered! It's changed my perspective on what's really important in life.
FPC: Where do you see your company in 2021?
PE: I see the company continuing to grow but I'm not in a rush to make it big fast. I'd rather us continue to test, adjust, be flexible and learn from mistakes. I'm on a constant quest perfecting our existing products and learning about what mothers want and need.
I think brand awareness is key, and I hope a lot more moms know about us in 2021. It takes time to build a well-known brand that mom trust and will recommend to other moms. Regarding product offering we have some new things we're very excited about in the works. Stay tuned!
FPC: We can't wait! Where is your happy place?
PE: In my bed on a cold Sunday afternoon reading a book or napping! In summer time my happy place is Evia in Greece where we go every August and just completely unwind!
FPC: Lastly, tell us about your ideal Saturday in your adopted hometown Sienna. What can you not miss while visiting?
PE: My ideal Saturday is taking a walk around the historical center with my family. Stopping for lunch at one of the restaurants in Piazza del Campo and sitting at an outdoor table sipping my spritz while watching my daughter run around in the square. Anyone who visits should definitely do this too! Also not to miss in Siena are visiting some of the many wine cellars, vineyards and going for a drive in the Tuscan hills. Breathtaking!
For more from Peggy and Teat & Cosset follow along on Insta @teatandcosset