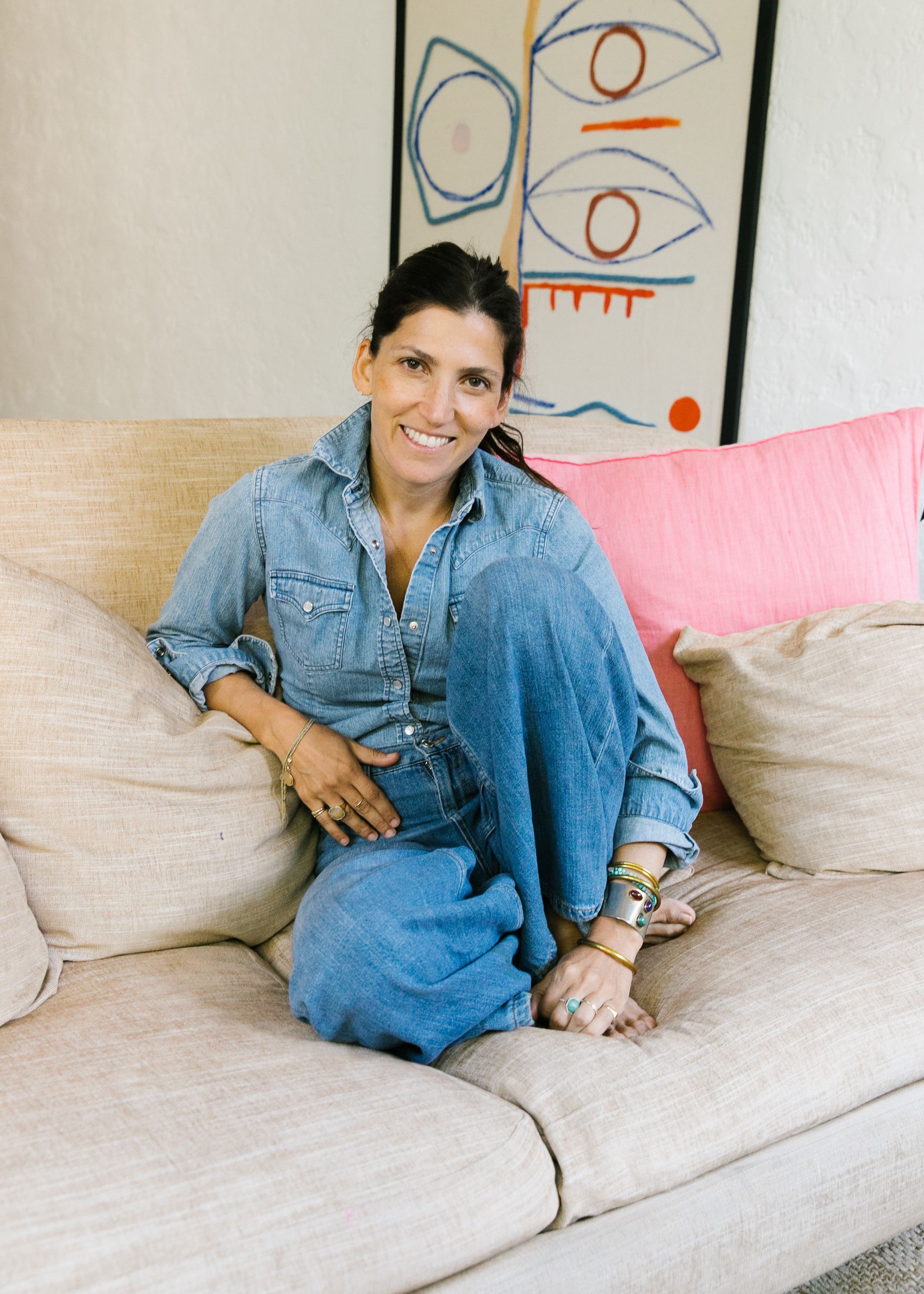 What's your name? Do you have a nickname? Ariane Goldman, "Ari" among friends and family
Name of your company? HATCH
Tell us about your brand and what inspired you to start your own company? When I was pregnant with my first daughter in 2011, I couldn't find stylish, timeless maternity essentials that made me feel beautiful, confident and like the best version of ME. I didn't want to hide behind my bump, I wanted to flaunt my beautifully changing body with chic maternity pieces. So I created them!
How many children do you have? Age(s) and name(s)? Charlie Grey, 8 & Georgie Lou, 4
What did you do before you started your company? I worked on the marketing team at American Express, and then started my first brand, twobirds new york, a collection of bridesmaid dresses to enable bridesmaids to invest in a dress they could wear after the wedding, thus killing two birds with one dress 😉
What do you do for self-care? Do you have a favorite workout? Self-care to me is everything from an awesome workout to a martini with an old friend. It's taking the time to do YOU. Though I do love a hot yoga class when I need to sweat. Travel with my husband for inspiration is critical as well, as it resets me and enables me to refill the tank to be a better mama and a better leader.
Did you enjoy being pregnant? Yes, I found pregnancy to be an inspiring, empowering time in my life. The notion of incubating something so powerful grounded me and made me the whole-est I've ever felt.
Tell us about your proudest moment? (personal or professional). My two daughters make me proud every single day, as does a business I bootstrapped all the way to where it is now. Nothing makes me happier than seeing the result of these efforts through my daughters' eyes.
What is the most challenging thing about running your own business? Balancing the creative and inspirational part of building the brand while getting stronger as a leader and a CEO to build culture and a wonderful place to work.
What does balance mean to you? Balance to me is taking the time to do drop-off in the morning if I have to be out at night. It's weekends in the country with my family where we're happily isolated and soaking up every minute of being together. The struggle is real, and balance isn't always perfect, but I've learned to roll with it.
How has becoming a parent changed you? I don't sweat the small stuff as much. I try to stay high, be in the moment, and enjoy the ride.
Where do you see your company in 2021? I see us providing expecting women and new mothers with a full arsenal of maternity essentials, from their entire beauty cabinet to their head-to-toe wardrobe, and everything in-between. I also see us going deeper in creating meaningful communities to educate, inform and connect all mamas throughout their journey – both at our retail stores and online.
Where is your happy place? Our beach house, the four of us cuddling in bed.
Lastly, tell us about your ideal Saturday. Hanging in bed with kids … homemade breakfast with family and then a beach walk (even in the winter). Find an activity for the kids (it's harder than one thinks over east coast winters!) so I don't feel like a total failure and on to a dinner at our house with friends who are like our family.
Instagram handle: @hatchgal @arianegoldman
Website: hatchcollection.com