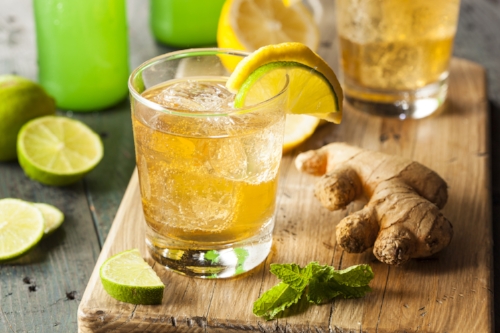 We asked our newest FPC instructor, health coach and co-founder of Market.Kitchen.Table, Amanda Schoppe, "What would you serve up at a 1st birthday party to impress a room full of new mom friends?"
This Spicy Ginger & Coconut Water Mocktail was her answer!
Makes 4 Mocktails:
Ingredients:
2 – 2inch pieces of Fresh Ginger – thinly sliced

2 tsp Ground turmeric

Pinch of ground cayenne

2 Cups Water ( For boiling ginger tea)

3 Cups Organic Coconut Water (We like Harmless Harvest)

1 tbsp Organic Maple Syrup

Juice of 2 Lemons

4 small pieces of candied ginger for garnish
Directions:
Place water, ginger and spices in a sauce pot and bring to a boil then turn down to a simmer and steep for 8 minutes.

Mean while combine Coconut Water, maple lemon juice and store in fridge

Turn off heat on stove and once mixture cools to room temp place in a glass container and place in fridge.

Once you are ready to serve combine coconut water and spicy ginger tea and pour into 4 glasses over ice. Garnish with a candied ginger piece and lemon slice.
Enjoy!!