We know we aren't the only one's who love cooking and baking on a cozy snow day. We whipped up this easy Creamy Asparagus Soup with Dill during the "Bomb Cyclone of 2018".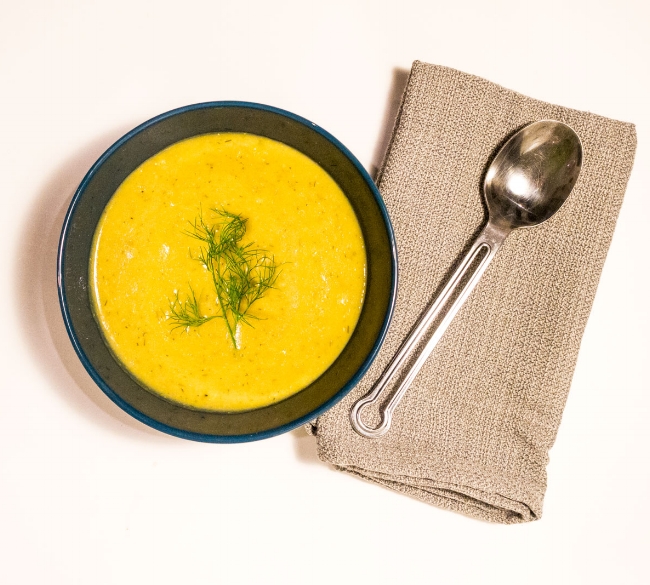 ---
Creamy Asparagus Soup with Dill
The recipe is vegan friendly and uses rolled oats to create the creamy texture!
Ingredients:
2 tablespoons extra-virgin olive oil or butter
1 onion, chopped
1 stalk celery, chopped
1 teaspoon ground cumin
1 tablespoon fresh or dill 1 teaspoon dried dill
1 bunch asparagus, washed and trimmed
4 cups vegetable stock
1 cup water
1 bay leaf
½ cup rolled oats
1 teaspoon sea salt
pepper to taste
Directions:
Heat oil in a 4-quart pot. Add onion, celery, cumin and dill and sauté until soft. Cut asparagus into 2-inch pieces. Add asparagus to mixture and sauté a few more minutes. Add stock, water, bay leaf, oats and salt and pepper. Bring to boil. Simmer 15 minutes. Let cool. Transfer to a blender and puree in small batches or use an immersion blender to puree.
Add some fresh lemon juice to taste. Vegans can add a sprinkle of nutritional yeast for flavor. Non vegan additions include, a dollop of sour cream or parmesan cheese.
Recipe adapted from Feeding the Whole Family by Cynthia Lair
---
Did you know? Asparagus is high in folic acid. That makes it a great addition to any pregnancy diet. And while we're talking nutrition, mark your calendars for our Total Nutrition for Pregnancy Workshop with Carolyn Talents from CLT Wellness coming up on Jan, 24 from 5:30-7pm!