We are excited to introduce FPC's first postpartum class, "Rehab". We LOVE the fitness scene, trying new classes and finding fun instructors around the city. And as much as we love you, our goal is not to keep you at FPC forever. Our mission is to guide you safely through pregnancy and rehab you post-birth so you can go back into the fitness scene with more strength, body intelligence and total confidence that you aren't doing anything to potentially harm your body.
Having been through pregnancy ourselves, we recognize that getting that 6-week "OK to exercise" from our care providers provides a huge disservice. Labor and delivery are a marathon and depending on the type of delivery you've had, your body may need some major (sometimes months) of rehab. Unfortunately, our health care system hasn't caught up to our needs. We feel every woman should go straight into working with a specialist in order to reconnect to her core, TVA and pelvic floor post birth. And many of us also need to work on healing a diastasis recti, recover from a Cesarian birth or address any pelvic floor issues that have come up.
If you've been down this road, you know that working with a specialist can be expensive and PT is not always covered by insurance. Many of us give up and figure, oh well, these aches and pains, discomfort, tummy bulge, (insert any random ailment here) are all just part of being a mom.
STOP right there! None of that is true and we believe that in order for you for us to be the best moms possible, we need to first take care of ourselves. Not to mention, babies demand a lot of heavy lifting. We need to be sure our bodies can hold up to the task!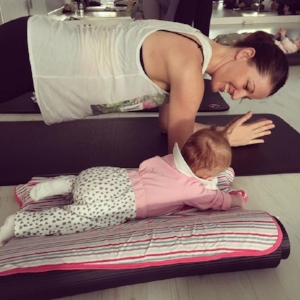 This is why we are introducing "Rehab". It's the individualized care and knowlegde you would get from a specialist in an affordable, small group format. This is the first step to getting yourself safely back into your favorite classes in the fitness world. Your body will never be the same after pregnancy, and we don't mean that in a bad way. We're here to help you honor the new you and teach you to be grateful for what your body has done.
"Rehab" is pre-crawler baby friendly so there is no excuse for not taking the time to devote to your healing and recovery. Whether you've had a Cesarian birth, natural birth, working through pelvic floor problems, or diastases, this class is safe and encouraged. "Rehab" is taught by FPC co-founder, Joanie Johnson, who is a pre/postnatal corrective exercise specialist as well as diastasis and core consultant. We also work with women's health specialists and PTs and make further referrals as needed. As with all our classes at FPC, you are in safe hands.