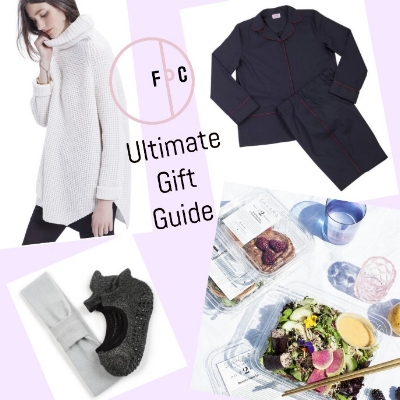 We all want our husbands around for a long time so why not give them the gift of health. Our favorite wellness company, Parsley Health, just launched "The Parsley Assessment" which is an easy, low commitment way to explore ways to become a healthier version of yourself. Hopefully this proactive, preventative and cutting-edge care will inspire him to a healthier lifestyle in the new year.
You love your BFF and even if you have agreed on no gifts the Isabella sock from Great Soles make the perfect "no gift gift". She will love it while in pilates or FPC class. We are also obsessed with the Teat & Cosset breastfeeding pajamas. Perfect for pregnancy, nursing AND beyond. Who doesn't love getting luxurious, made-in-Italy sleepwear? As an added perk Teat & Cosset are also offering the FPC community a 20% discount on the entire order. Just use code FPC20 at checkout.
Your mom is always there for you when you need her and works tirelessly in the kitchen to cook you good food, why not give back with a plant-based meal plan from Sakara to kick off 2018? We are personally obsessed with all their snacks and can't stop eating their detox bars and matcha granola.
Now what should you get yourself or ask your loved ones for? Here are our top three picks.
1) The Well + Good 2018 Palm Springs wellness retreat. How does hiking, eating healthy delicious meals, laying by the pool and working out with top fitness professionals for three days sound to you? Well, it sounds like heaven to us! Remember, selfcare is always the best care.
2) A 10-pack of classes to FPC here to make sure you stay healthy, fit and strong in 2018.
3) This Hatch Collection waffle turtleneck. It's the ultimate chic, cozy sweater and perfect for pregnancy and beyond. We suggest pairing with an awesome leather legging like these vegan leather ones.
Happy Holidays!