We took ten minutes to sit down with our friend and FPC instructor extraordinaire to find out more about her (and how she keeps 43 plants alive!)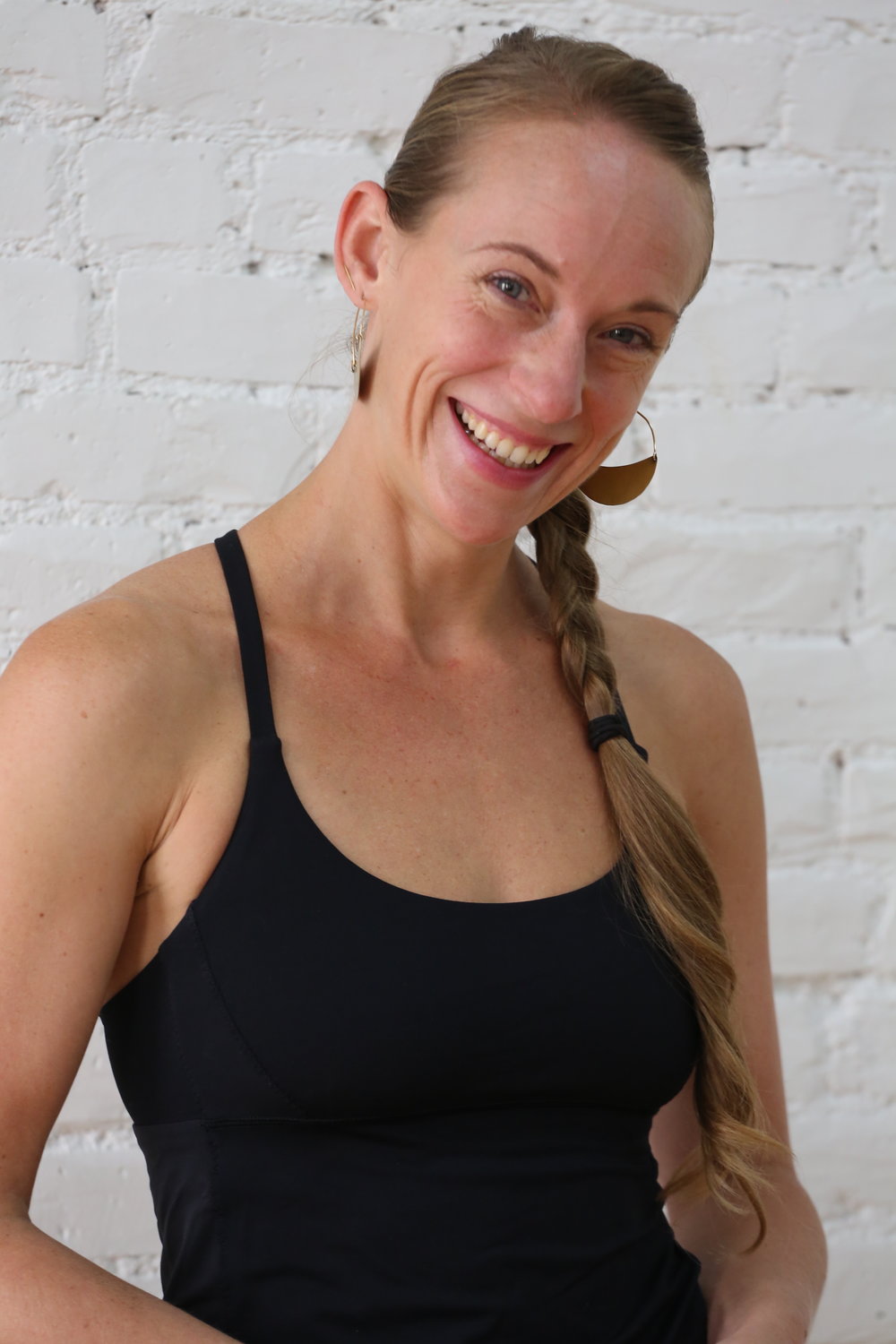 Hometown?
Detroit, Michigan. Well, actually Plymouth, MI, but I think Detroit makes me sound more hard core.
Current location?
I'm a Brooklyn girl.
What is your background?
I started dancing when I was 3 years old and never looked back! I danced all throughout high school, received my undergraduate degree in Dance from the University of Arizona and moved to NYC right after graduation to pursue my career as a professional. I worked as a dancer for 11 years during which time I had the good fortune to perform and teach both nationally and internationally and, eventually, even had my own contemporary dance company.
While I was dancing I fell in love with the practice of yoga. It taught me about my body and myself in a way that I had not had the opportunity to explore before. I knew that the next step would be to make the yoga practice a primary component in my life. Fast forward to 8 years ago, I did my first teacher training at Yogaworks. I was fascinated when we covered prenatal yoga. Learning about the innate intelligence of the female body during pregnancy and childbirth inspired me to continue my studies at Yogaworks and to begin teaching prenatal yoga. I loved working with my pregnant students and felt that I learned so much from each of them (I still feel this way!). My interest in supporting women continued to grow.
At this point, I left behind my career as a dancer and began school at the Pacific College of Oriental Medicine to pursue a degree in Chinese Medicine with a speciality in women's health. I already knew that becoming a doula was something that I was very interested in and, during an externship in L&D at the NYU Lutheran Medical Center, my interest was confirmed. Shortly thereafter I became a doula.
My passion for women's health, yoga and movement were the perfect combo that lead me to FPC!
What do you do when you don't teach at FPC?
Currently I spend most of my time studying! When I don't have to study you'll find me practicing yoga, bathing in nature, mixing essential oils and cooking.
What inspires you?
I am constantly inspired by my students. I literally live to pull people towards the depths of their potential. When someone is along for the ride and they learn something about themselves that they didn't know was there, well, that's inspiration!
Describe your FPC Flow class.
My FPC Flow class is a bit of a hybrid. I combine the intensity of strength training with the calming nature of a well choreographed flow sequence. Students can expect to break a sweat, find some calm in our crazy city and, most likely, hear a few tidbits about the anatomy, science and magic of pregnancy.
What do you want to be when you grow up?
Well, I'm pretty grown up already BUT I do have a future dream that I am in the process of building. I hope to open a space dedicated to women's health and well-being. A place where I can combine my work as an acupuncturist, herbalist, yoga instructor and doula to support, educate and inspire women.
What is your favorite 90s jam?
"You Oughta Know" by Alanis Morissette. Yep. Still love it.
Current favorite song?
"Black Book" by ORI. I CAN NOT stop listening to this song.
If you could be any animal in the world, what would you be and why?
Definitely a gazelle. They are so light on their feet and move through means of effortless leaping. Pure magic.
Tell us something that not a lot of people know about you.
I shaved my head in my early 20's! Poor decision.
Last but not least, what's your secret to keeping 43 plants alive?!
I really love my plants! I've given each of them a name and feel like they have their own personalities. I guess I just commune easily with the plant world. Also, luck!?!
You can find Jess at FPC on Tuesdays at 9:30am and 6:30pm. Sign up for class here